If you happen to use Google Reader to read your favorite blogs -
I'm sure you know it will be no more starting July 1st. Sad times.
I've switched all my subscriptions over to
bloglovin'
. You can follow this one by clicking below

or by clicking on the bloglovin' icon in the sidebar to your right.

Feedly is another option: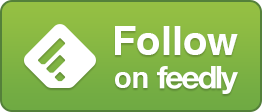 I've also heard that
The Old Reader
is enjoyable:
Hope you find one that you love.
See ya, Google Reader - it's been real.